Thanks to Corona Blog for letting us use the text 🙂 . We couldn't have written it any better! Thanks to Martin Adam for the maps
We are all familiar with the horror pictures and horror scenarios of the Corona pandemic that are presented to us every day in the quantity media. India is currently being used for this purpose. With – more or less current – images, attempts are made in this country to spread a dramatic picture of the situation there.
Martin Adam took a closer look at the situation and evaluated and summarized countless data that paint a very different picture of the pandemic. Below you will find the "alternative dashboard", which presents the situation objectively and in detail.
A more objective representation
Germany's incidence figures
The first map is based on data from the RKI and the health offices – we probably all know you from the daily news.
Of course, all the criticism that exists about these figures also applies to Martin Adam's new map:
Of course, the numbers depend on the number of tests and who you test. In addition, there is a reporting delay. Even the public broadcasters have recognized that incidence is actually hardly a useful tool. Nevertheless, it rushes across the screens of millions of people every evening – in colors ranging from yellow, to dark red, even darker dark red, and then purple. To match this overdramatizing image, Martin Adam adjustedthe map and its coloring:
A county may even go "green" here, namely when the incidence is below 35 – which, with enough testing, is unlikely to be permanently achieved anyway due to the false positive rate of PCR testing. He also spares himself the overdramatization of high incidences (which are only converted to 100,000 inhabitants anyway). At 200, "normal red" is simply the end of the line.
If you click on a county, additional important information appears, e.g.:
Thus, one learns in detail how many test positives there are in the county, but also the assignment to the RKI case definitions is: Cases with clinical-laboratory diagnostic evidence correspond in principle to cases with positive PCR test and symptoms of any severity before the test. Cases with laboratory diagnostic evidence in the absence of a fulfilled clinic correspond to individuals who have only a positive PCR test – without having had symptoms prior to the test. The last category, cases with laboratory diagnostic evidence with unknown clinic, includes individuals who have a positive PCR test and it is not known whether or not they had symptoms prior to the test.
Map to incidence figures
---
Intensive Care Bed Utilization
One regularly reads and hears about the dramatic intensive care bed utilization in Germany in the quantity mediaat the moment – the Tagesschau never tires of finding selected intensive care physicians who warn about the shortage Since the well-known goal of all these measures is primarily to prevent the utilization of intensive care beds from reaching its limits, it makes sense to visualize this as well.Knowing full well that here, too, tricks are being played and that the utilization rate is being artificially increased in order to obtain federal subsidies. If you look at Martin Adam's visualization, you can actually breathe a sigh of relief: the color green clearly dominates Germany here:
Also interesting are the additional info when you click on a county
---
The world map
Currently, the fear of the people is tried to keep high with horror pictures from India (many of the pictures were taken far before the pandemic).n. In parallel, they are preparing to vaccinate children– the next helpless group in our society, and they are not stopping at pregnant women either, as we at Corona Blog have also reported. Maps garnished by the Tagesschau, which become blood-redder from week to week – not because of rising incidences, no, just because of an arbitrary coloring strategy – support this trend even more.
It's all a matter of getting it right! India is now seen as the big threat. The Indian double mutant. We will all die, just like the Indians! Yes, exactly! What a pack of lies!

Martin Adam
He has spent the last few weeks retrieving, evaluating, summarizing, and clearly presenting worldwide death data. To do this, he used available databases from the RKI, WHO, and CDC, among others. The result is updated regularly and is available on a separate page.
Accessing and analyzing the data from various databases was no problem for Martin Adam, a programmer. However, this raised purely practical questions, the answers to which are still debatable today:
How should the map be colored? At what point is a mortality rate dramatic – and must be red? When is it so small that it can be green?
Martin Adam has also thought about this and currently solved the problem in this way:
Coloring is based on seven-day mortality – that is, how many people have died in the past seven days related to Covid-19 infection
All country figures are then downscaled to a mortality rate per 100,000 population– that the figures are comparable across countries
Since in Germany the situation is described as "under control", he has taken the German mortality rate as the mean reference mortality rate and colored it orange
The upward and downward thresholds were distributed around this "German reference value
---
World map
What catches the eye is that India has the same coloration (orange) as Germany..
How can that be – many are surely asking themselves now? If you believe the media reports, India should have the darkest red. Even if you lookat the uninterpreted death rates for the country, the current increase looks dramatic: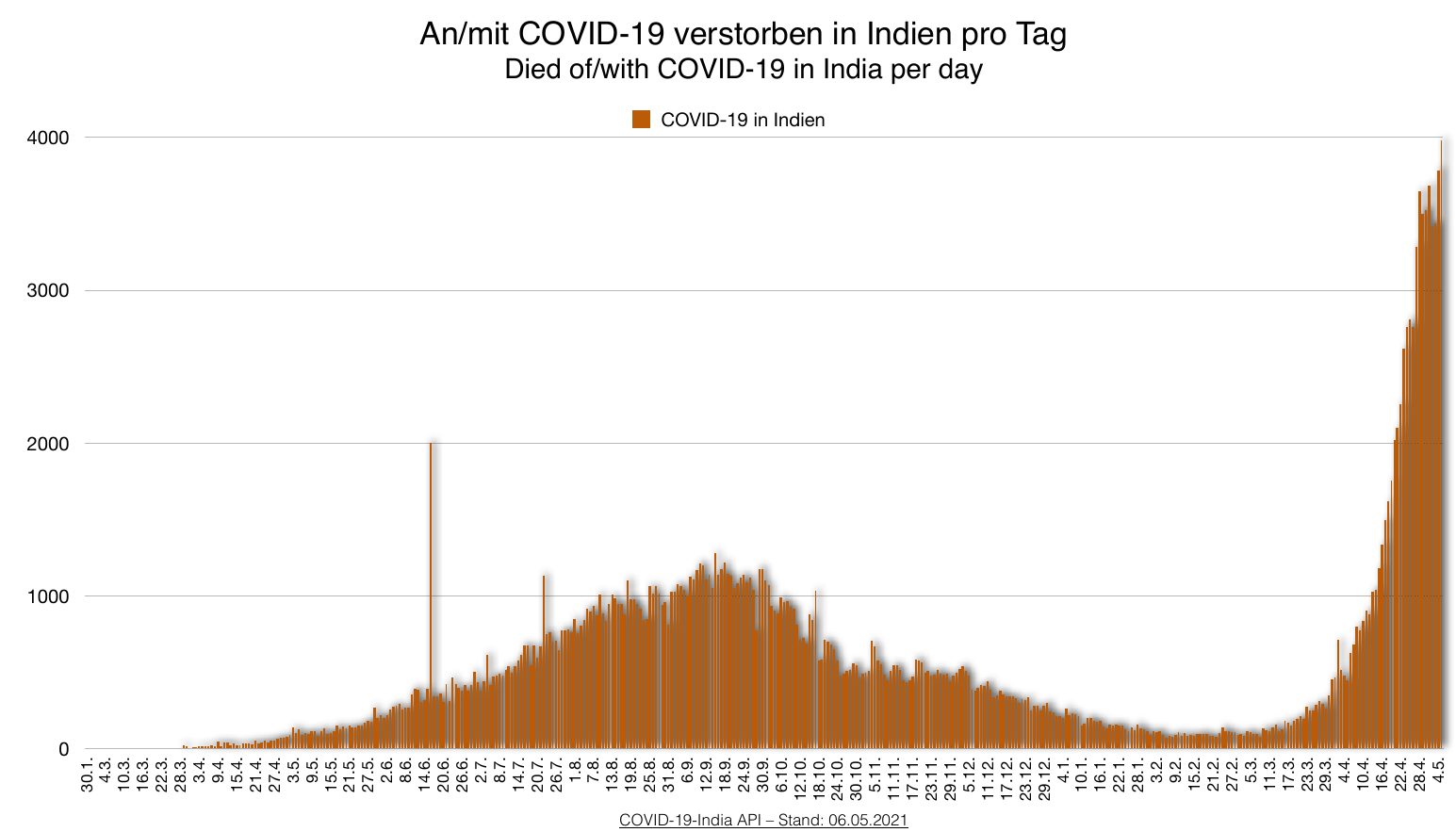 The problem is: the numbers are not in proportion. India is home to approximately 1,366,000,000 people. In Germany, with a population of only about 83,000,000, about 2,500 people die every day. If you look at the graph of so-called "coronatotes," the current peak of less than 4,000 coronatotes per day is not that great for a country with such a huge population. This is exactly what you can now see nicely marked in color on the map. He goes on to mention, regarding the Indian death toll, that "so far, few people have died from Covid-19 in India, relative to the total population. Compared to the world, the Covid-19 mortality rate in India is really low! But of course these are statistical evaluations. Many people die of covid-19 in India as well, and that should not be overlooked. In the past 7 days, approximately 10% of the total Covid-19 deaths have occurred. That looks extreme at first, and when you see it on a graph, it knocks your graph almost vertically up. But in reality, just in terms of population, just as many people die in India as in Germany, or even a little less."
And indeed. If you click on India on its map, you can see the details about the country: the seven-day mortality rate is 1.83. In Germany, it is 1.94. Das zeigt auch folgende, direkte Gegenüberstellung von Indien und Deutschland: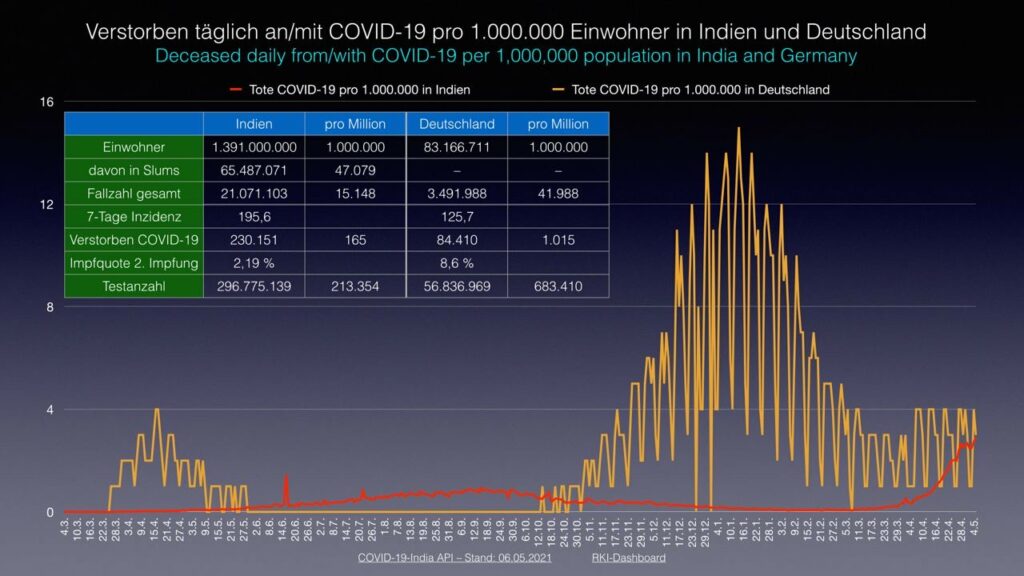 Germany is also weaker than India in terms of case mortality. Case mortality provides information on how many of the reported Covid-19 cases died: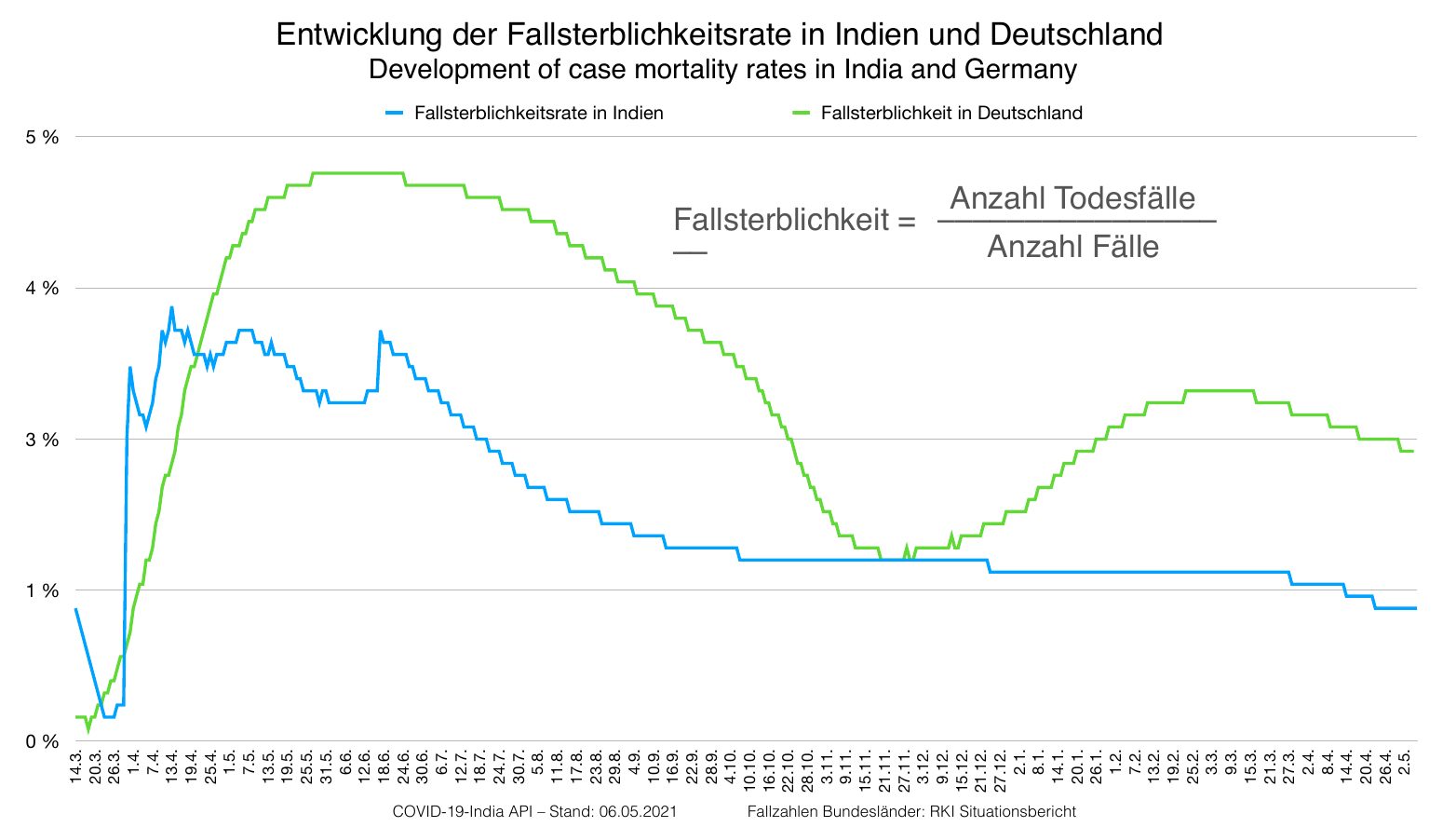 But after more than a year, at least we have understood: You can expect a lot from the German quantity media, above all ARDand ZDF, but not objective and factual reporting. This makes the new media all the more important in these times. On corona-karten.com you will find in the future the new "Dashboard" with the three maps described above.
---